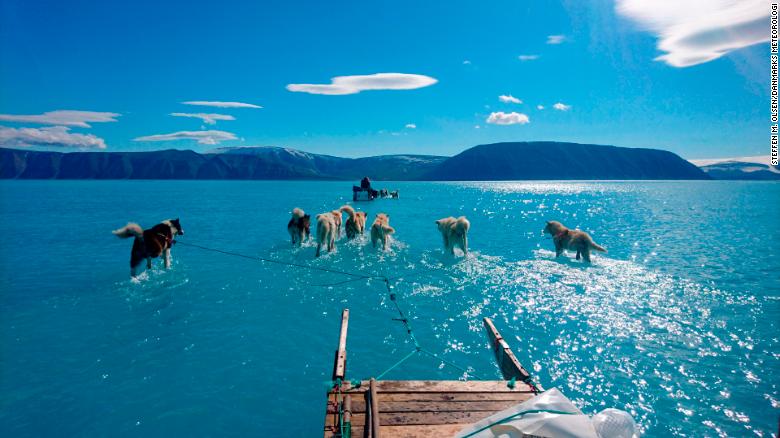 Greenland by Steffen Olsen/Danish Meteorological Institute, 13 June 2019
The Pit
At first glance the picture looks like a Photoshop hack. Perhaps someone thought it would be funny to paste a sled dog team cruising over an island lagoon. All that is missing is some humorous caption in the Impact font to make it a complete meme.
And yet, it is a real picture taken six days ago in Greenland by a Danish Meteorologist. Yes, it is "melt season" up north, but as the
article in CNN
describes, the melt level is unusual this year and will likely break records.
It may be chilly where you are, but this is the latest in a long series of signs that global warming is tearing at our reality. We should be fearful, and that fear should lead to action. One hopes we are smart enough to recognize this across the boards before this becomes irreversible and our lives start to look like an apocalyptic downbeat 1970's science fiction film.
We have a long way to go, the current "breaking news" headline at CNN is "The EPA rolls back Obama-era plan limiting coal-fired power plants."
(groan) Yesterday was Soylent Green day. What are we eating today?
The Summit
The "Summit" will be discussed next month during the July 18th show. If you aren't in the mood to wait, try
looking here for a clue
.
Tomorrow is June 20, 2019. We will have a show starting at 8PM.
I hope you will be able to join us.
Cheers,
Illya
*Title of the blog entry taken from the opening to The Twilight Zone.